Q&A: Elizabeth Zhu, Acting Manager, Facilitates Procurement Lower Mainland Facilitates Management
Lower Mainland Facilities Management Representing Fraser Health, Vancouver Coastal Health, Provincial Health Services Authority and Providence Health Care presented with a 2017 Best of Public Procurement award for Procurement Practices.
We've said it before and we'll say it again, procuring construction services in the public sector is a highly specialized practice requiring unique experience, knowledge and skill. Learning from those who are leading the way for others in our competitive industry is important.
As a 2017 Best of Procurement honouree, we asked Elizabeth Zhu, Acting Manager, Facilities Procurement for Lower Mainland Facilities Management to answer a couple questions for us.
Once again, congratulations! Let's start from the beginning. Please briefly describe the scope of your projects, and if possible, give examples.
"This six-person procurement team oversees construction projects for four health authorities in an area stretching from Hope to Whistler and includes B.C. Cancer Agencies in the interior and on the island. They manage hundreds of projects per year, big and small, ranging from new builds, such as new hospital wings, to renovations and regular maintenance for each hospital. In any given week, we manage roughly 20 projects—public tenders and RFP's—and roughly 30 maintenance projects."
Sounds like your team definitely has a full plate. In a sentence or two, what do you think is the secret to a successful procurement process?
"Be clear and fair to all proponents. That is our guiding principle in public procurement. You can't prepare for everything and there are always surprises, but you always ask, "Is this fair and equal to everyone?"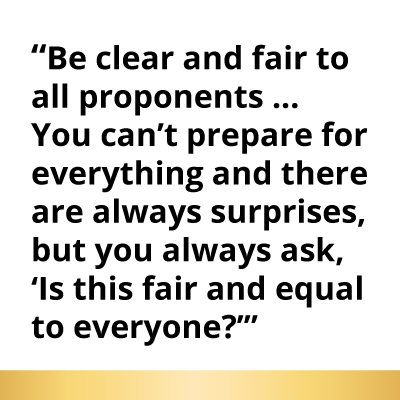 You were recognized by BCCA for many best practices in procurement. Which of them was the biggest challenge and why?
"The biggest challenge is to have a good competition in every process. but we find during the peak summer season there is a lack of competition – because everybody is so busy – there are not many bids. A minimum of three is good, but during the summertime, there's typically a shortage of trades. It can be hard to price out a project. Also, the knowledge transfer from experienced tradespeople to the apprentices, who need time to build their experience, is seeing a growing gap."
Lastly, what advice would you give other public sector procurement professionals?
"Learning to effectively use the electronic bidding system (like BC Bid and BidCentral) provides easy access to the bid documents – for both owners and contractors. It provides more publicity on your procurement project because it's posted on the web and reduces the bidders' costs in preparing bids. It also eliminates a lot of unnecessary non-compliance issues that existed in the past with the paper submission system. Easier access plus easier upload equals reduced costs. It's a win-win for trades!"
---
Related:
See list of 2017 Best of Public Procurement honourees.